At last ! We've been counting the days for the next Rampage Edition for almost a year, and here we go again! After a first hit in 2016 which had been an epic one, we were convinced to go back for this 2017 edition for quite a long time already.
Trying to imagine the Rampage atmosphere without having been there before, is not an easy task ! There's a distinctive ambiance which reigns through this dancing arena. This giant sports hall, full with 15000 savages ready to go off, with its unique scenography and soundsystem. Antwerp city itself is on fire, the train station slowly turns into a giant cloakroom, Bass music is resonating all over the city center, hearing dozens of different languages, all of them from happy people smiling and cheering to whoever speaks to them. It's like being in a city, surrounded by friends who share the same passion.
Unfortunately, we couldn't make it for the beginning due to several train delays or cancellations. To be honest, the time we've spent to enter in the hall, Radar Records Soundsystem's first set was already over for quite long time and the Gentlemen's Club one had already begun.
A few friends who were there for Radar Records Soundsystem ( with Doctrine, James Marvel, Hypoxia, T & Sugah and Andromedik) told us that the set was full of energy, served with huge double drops with really fast and technical switches. Plus they really enjoyed the set because the tracklist was more Dancefloor orientated regarding to the rest of the Drum & Bass line up which was more into Neurofunk & Jump-Up.
As usual, we had our 5 minutes of admiration when entering the hall. To enter in this Antwerp's Sportpaleis, for this specific event is something unrivalled compared to all the events we have been in France. "Animalz", the biggest french bass music event has a public of 5000 each year which is three times less than Rampage. And what a pleasure to start the night dancing to the Gentlemen's Club smashing dubstep set! The English trio (with Coffi, Soloman and 50 Carrot) doesn't need to be introduced anymore. The three guys literally smashed the dancefloor with the dancer army there with their huge riddim tracks. Even if the lightshow wasn't at full capacity yet ( it is usually when the 3rd or 4th set begins), The Gentleman's Club had a nice selection between dubplates and anthem tracks. An excellent "warm-up", even if as we said earlier, we were present for the last 20 or 30 minutes of the set.
Here comes Fox Stevenson and Feint. This B2B was quite a surprise when announced because their style doesn't really fit the Rampage vibe, which is a night where your neck gets wrecked easily. But well, it brings some diversity to this line-up and we won't complain. Despite a… "Monstercat" atmosphere ( let's be honest ), the duo succeeded in playing a really dancing set full of energy. Fox Stevenson played a few of his classics which was a good point. A surprising B2B which was pleasant to hear after all.
Knowing that Master A.M.C was only playing a B2B 45min set was quite a disappointment! We want to see A.M.C for AT LEAST 2 hours! Fortunately, Murdock wasn't "too bad" at keeping up AMC's fast pace. An absolutely crazy set, playing between the different sub-genre of Drum & Bass. The duo was technically perfect as usual, with meticulous transitions, and a tracklist on point. Plus, AMC satisfied our ears with the excellent "Mr Happy" at the start of the set.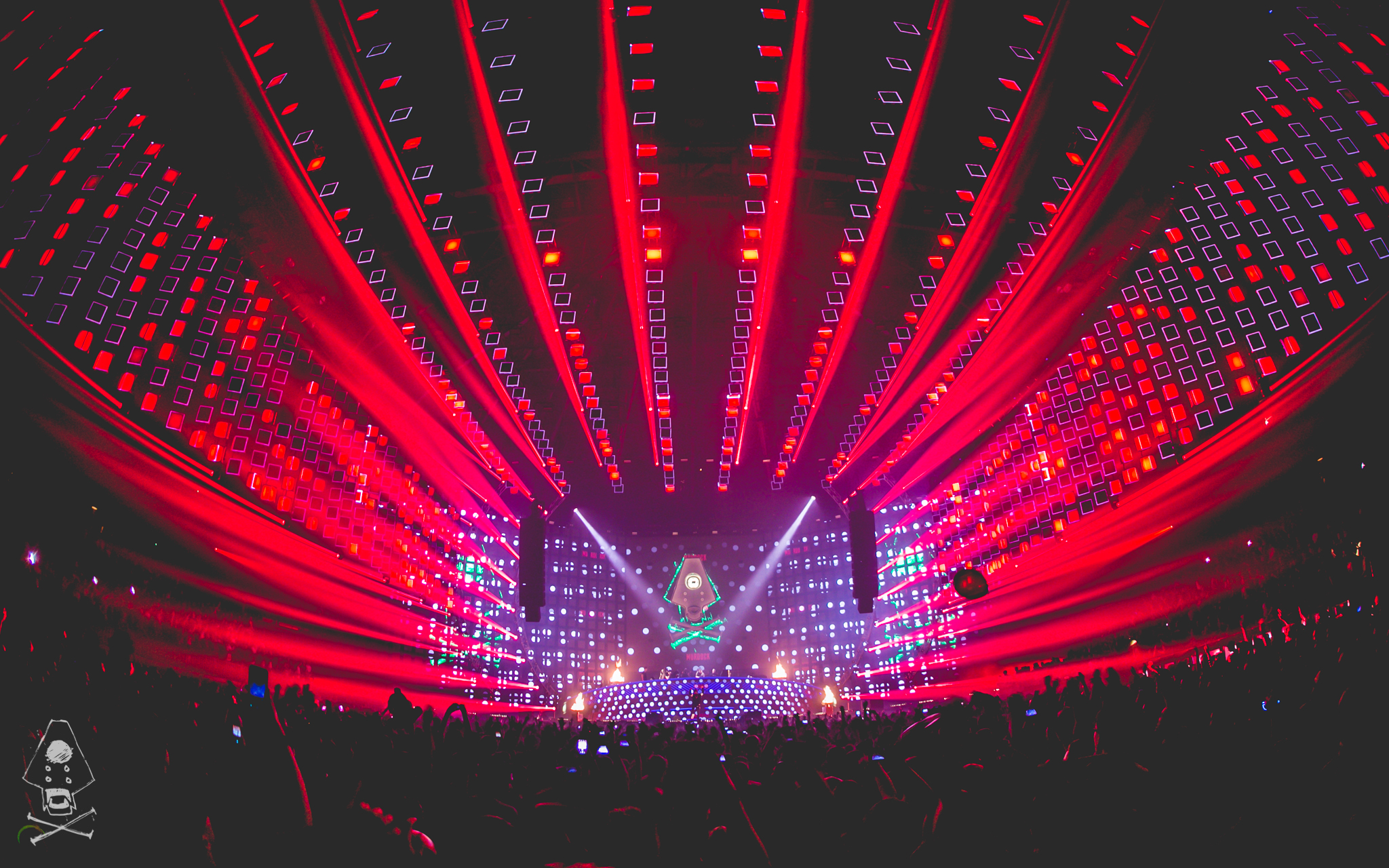 After a few hours of rolling Drum & Bass, comes the belgian artist Eptic. Considering the outstanding reaction of the public during all his set, it is needless to say that Eptic was the favourite of the night. The scenography was sick and the light show which started to get better during A.M.C and Murdock set, was rising up in power. The sound was huge & powerful. Each track played was a dubstep anthem that people sang along until their vocal cords broke. For one of the only artist who had the opportunity to play alone during the night, his set was a complete success and a personal favourite for us. And we also had streamers' throws. That was great!
That's it, the lightshow is at full capacity. There are lasers spreading all around, the light panels on the sides goes up & down constantly. It is time for a big part of the night. The Loadstar B2B DC Breaks B2B Mind Vortex set! We were excited to see Loadstar playing with their excellent productions released in 2016 and we weren't disappointed. With a diversified tracklist, going from Sub Focus, Mefjus to Emperor tracks, but also The Prototypes and Aphrodite ( with the unmissable "Ready Or Not" remix), and of course the productions of the 3 huge producers on stage, this set was the highlight of the night. We could reproach their Dead Limit / Mr Happy running gag though, but let's be honest, it's always a pleasure to hear these tunes, especially in the Sportpaleis surrounded by 15000 comrades.
The worst part ( and obviously the best one ) at Rampage, is when you feel that you've spent 20 hours in this hall, but it's only 1 o'clock and that there's still quite a lot of stuff to see. And at 1 o'clock started the set that we had no idea what to expect from: the SaSaSaS crew set with Macky Gee, DJ Phantasy, and the MCs Skibadee, Stormin, Shabba D and Harry Shotta. In France, the Jump-Up sub-genre is poorly represented, but we've got some crews making Jump Up events, "Jump-Up Warriors" for instance which organize events in Paris on a monthly basis. We don't usually listen to this sub-genre and we've never attended a Jump-Up night. There has to be a first time for everything, and what a great way to have our first jump-up set in front of one of the most famous crew in the world, in THE country which supports this scene a lot. Even though at first sight, we have to admit that a good part of the tracks played pretty much sound the same, but Jump-up is a like a huge shot of energy, and it's astonishing to see people singing out loud more or less all the tracks played. Also, as we don't generally really like MCs, we've been pleasantly surprised by the 3 MCs of the crew present this night.
To be totally honest, we thought that Modestep had come to an end long ago. Last time we've heard about them was in 2013 or 2014 for their "Show Me A Sign" but radio silence after that. Speaking of this track by the way, they've played it twice during the set, once at the beginning, and the Camo & Krooked remix version at the end. We weren't expecting that much from this set and we've been agreeably surprised. The masked DJ ( no, that wasn't Funtcase ) succeeded in giving the hall a huge and loud atmosphere right after the twirling and lively set by SaSaSaS. We could hear a lot of Modestep productions ( almost half of the set), but also some Caspa, Downlink, a wicked remix of "Jotaro" by the parisian Samplifire, some Trampa, Xkore etc… That was brutal.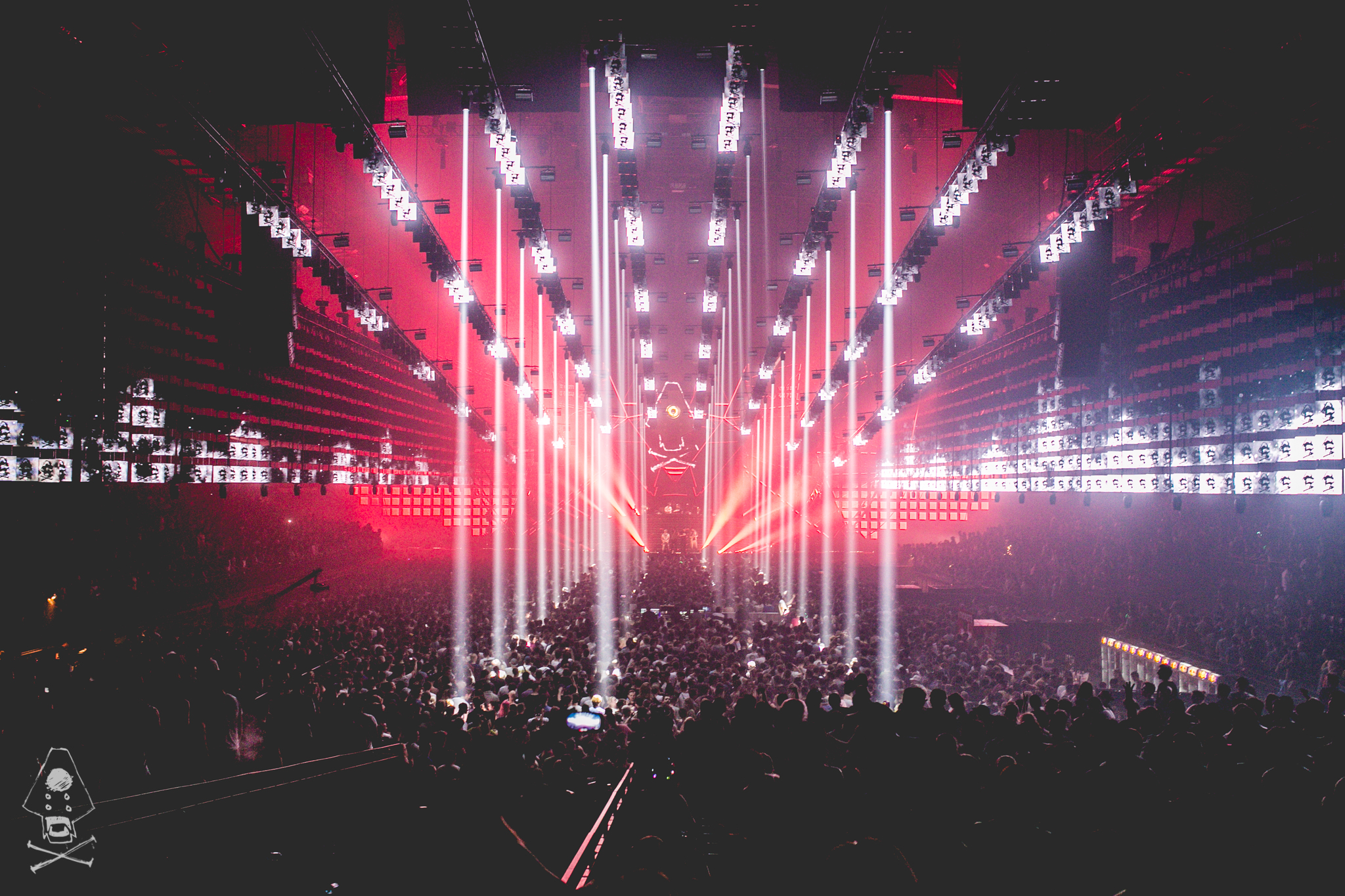 Then here comes probably the set that a lot of us was waiting for: the legendary band Noisia. Uncontested Drum & Bass emperors for years, the Dutch trio revealed for those who hadn't the chance to see their brand new last album "Outer Edges" live, released in August 2016. We already loved this live at the last Let It Roll Festival edition, but the Rampage one simply impressed us thanks to the perfect harmony between the lightshow, the vjing and the powerful sound. Between the funny moments (the "good song very good song" lyrics appearing during "Friendly Intentions") and the epic moments ( croissant ), everything was perfect. Drum & Bass, Dubstep, Trap, Half Step, a lot of genres has been played, and none of these resisted the three guys. We also had the great chance to hear the 'Outer Edges' remixes exclusively, that we've been waiting for. The 'Tentacles' Ivy Lab remix was the highlight, but also 'The Englanted' Camo & Krooked remix ( which is out now by the way) and the 'Sinkhole' remix. Without forgetting to mention the VIP/remix of 'Tommy's Theme' which simply set the hall on FIRE! A significant moment in Bass music.
Circus Records is a Dubstep solid value. We were quite excited for Doctor P & Funtcase B2B set. Since it has been announced actually. The two Dubstep's fathers ( post 2010 ) haven't disappointed us. Between fierceness and a great technique, dubplates and fresh tunes, this set was a pure aural gem. If we have thought that Doctor P was about to play more commercialized tunes than his comrade Funtcase, we were totally wrong. We had the chance to hear quite a lot of personal productions from the two of them, some from Flux Pavilion, the other Circus Records Boss, Squnto last tune "Sayim", and of course "Drunk Zelda vs Yasuo" a production from Ganon and Ivory. With forgetting "Tetris" played as set closure. This track is absolutely efficient.
"Warning", is clearly the track that the 15000 guys in the hall sang all together this year again. Guv got it right and always know when to play his classic shit at the right time. Whether you like jump-up or not, a few of his productions are clearly anthems. Even if he was announced as missing a few hours before the party started, he finally managed to come and to play his set ( for 30 short minutes, the last fifteen minutes by DJ Eazy).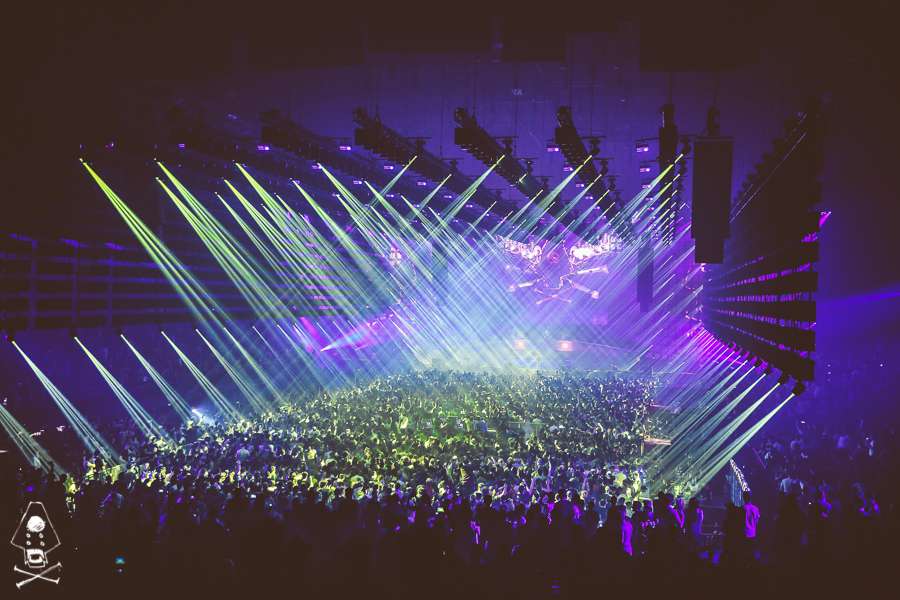 If we had to choose our second favorite Drum & Bass set of the night, that would be without any doubt Mefjus's set. Well known for his huge live acts and his neurofunk productions, often with his partner Emperor, the Austrian impressed us by playing true Deep Neuro gems in the middle of his set. To keep 15000 warriors awake, dancing for 10 hours in the Sportpaleis arena isn't an easy task, and if last year we observed a certain part of the crowd leaving the hall during The Upbeats set, that wasn't the case this time. To know how to mix these tracks at late hours, while being technically consistent and to tell a story to a crowd is really hard. But that is an exercise where Mefjus excels at; he proved it once again.
This 2017 edition was exhausting and a little bit more violent musically speaking than the 2016's one in our opinion. Complain asides, we literally LO-VED it! Free toilets was a big plus this year. The only little negative point this year was that the lightshow and the vjing was a little bit too much lined to the middle of the crowd, even if they're getting better and better each year generally speaking. As we prefer to stay on the right "terraces", closer to the artists to have a good view, we've noticed that the light panels which were going up and down from the ceiling stopped right in front of the terraces, so we couldn't enjoy everything. But hey, regarding the overall quality of this party, this is only a minor detail!
Rampage! We love you and we're coming back next year for this crazy week-end that you've announced!